So within the first week of March I managed to marathon read books 1 to 3 of the Doon Series. If you don't know what I'm referring to as marathon reading then let me explain, I pretty much started reading book 1 on a Monday and finished book 3 by Thursday. And I'm not a fast reader by any means but this series kept me highly entertained.
Let me break down what Doon is about. There are 4 books but only 3 are published currently with the 4th arriving in fall of this year (or basically not soon enough). The first book is called Doon, the second is Destined for Doon and the third is Shades of Doon. These stories follow two Midwestern best friends, Veronica and Mackenna, who after vacationing in Scotland manage to transport themselves into another realm across the Brig o'Doon in Alloway (which is the picture I inserted above). Where naturally upon arriving meet two very handsome  brothers who are also princes, Jamie and Duncan. But rather than go into more detail here I'm going to review each individual one. So let's start with the first book Doon: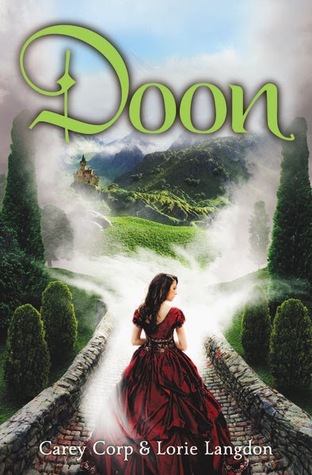 4.5/5 Stars
I first heard of this book through a daily email I get from a web site called Bookbub (not sponsored unfortunately) which finds deals on ebooks that might interest the user and sends them directly to your inbox. When I read the summary it peaked my interest but I didn't have high hopes because I had started another book from the YA Fantasy genre that I just couldn't read (more on that later). However I was pleasantly surprised and can say that before I even finished this book I went ahead and bought books 2 and 3, but I'm getting ahead of myself.
As I had written above the first book Doon begins with Veronica (Vee) seeing vivid day dreams of a blonde, kilt wearing boy in her school parking lot in Bainbridge, Indiana. Who then seems to follow her to Alloway, Scotland with her and her best friend Mackenna (Kenna or Ken) when they go there to spend the summer. Which can I say that I'm absolutely jealous that at 18 these two girls get to spend an entire summer in Scotland…Anyways the visions of this boy is so real to Veronica that she is can't imagine he can't be real so she is determined to figure out who he is, which leads to the discovery of the Doon.
The best way to describe the land of Doon without describing too much (because trust me you'll want to read it) is it is a land that seems like it is in the past but isn't really because it is only accessible by the modern world once every centennial  by the portal in the bridge it is more or less frozen in time while the rest of the world ages.  And I only explain it this way because this isn't a time traveling novel like "Outlander" as Vee and Kenna don't travel back in time so much as they enter a land that isn't being affected by the outside worlds modern advances. And I'm only really cryptic about the concept of the land of Doon because it's a large part of the plot in the first book.
Overall I rated this a 4.5 out of 5 stars because it did entertain me and I felt immersed into the world of Doon. Which is what I look for in a book because I want to visually be able to see the world that book is representing. And I also really enjoyed how it was written as it is told by both Veronica and Mackenna's points of views, which the girls names appear at the beginning of each chapter so you know who point of view it is. This was also the first fiction book I've read that has co-authors. The series is written by Carey Corp and Lorie Langdon, so I'm not entirely sure if one writes for one girl and the other writes for the other girl but surprisingly it worked out well for the book. And another thing I liked is that they write the accents out, meaning when I read the dialogue of Jamie, Duncan, or the other people of Doon I can hear their accents in my head. Because even though I know they're Scottish sometimes I can have a tendency to read them as American's because as an American that is the accent I have. So having it written that way really helped me as the reader.
Of course at times the writing can also be a little off for me. For example there is no cussing in the series (which I have no problem with what so ever) so Mackenna especially ends up replacing those words with playwright's names. Which could throw me off when I would read. But that's a small thing so it doesn't get into the way of the story.  And while this book if you've ventured into my favorites page (shameless plug) is on the list I didn't give it a full 5 stars because it isn't the GREATEST book I've ever read. In fact I don't know if there is the greatest book I've ever read but Doon is high on my list none the less. And as for the rest of the series I will review Destined for Doon and Shades of Doon because this post is getting quite long and I feel like I'll be rambling by review of book 3. Much like I'm doing right now.
So I hoped you enjoyed the review. Again I didn't write too much about the plot because I don't want to give anything away if someone reading this might want to read the book. But look out for the other two reviews this weekend and hopefully I should have a twitter account just for this blog up by tomorrow too.
Happy reading,
Meghan