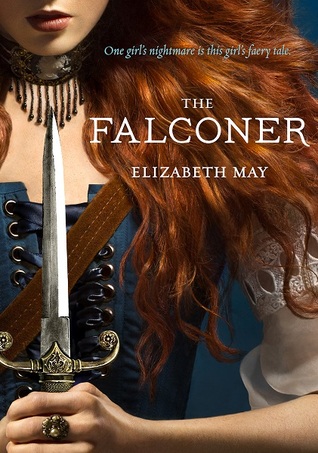 "You know, I'll never look at a woman in the same way again. I'll wonder if she's hiding weapons under the hedges."- Elizabeth May, The Falconer
Title: The Falconer
Author: Elizabeth May
Series:  The Falconer
Publish Date: May 6th, 2014
Genre: Fantasy/YA/Steampunk
Reading Format: E-book
Summary: She's a stunner.
Edinburgh, 1844. Eighteen-year-old Lady Aileana Kameron, the only daughter of the Marquess of Douglas, has everything a girl could dream of: brains, charm, wealth, a title—and drop-dead beauty.
She's a liar.
But Aileana only looks the part of an aristocratic young lady. she's leading a double life: She has a rare ability to sense the sìthíchean—the faery race obsessed with slaughtering humans—and, with the aid of a mysterious mentor, has spent the year since her mother died learning how to kill them.
She's a murderer.
Now Aileana is dedicated to slaying the fae before they take innocent lives. With her knack for inventing ingenious tools and weapons—from flying machines to detonators to lightning pistols—ruthless Aileana has one goal: Destroy the faery who destroyed her mother.
She's a Falconer.
The last in a line of female warriors born with a gift for hunting and killing the fae, Aileana is the sole hope of preventing a powerful faery population from massacring all of humanity. Suddenly, her quest is a lot more complicated. She still longs to avenge her mother's murder—but she'll have to save the world first.
---
Review:  The Falconer was easily one of my favorite reads this year. It was so fast-paced that I finished the book in two days because I just couldn't put it down.  Aileana is a strong female character and I love a good book that also has strong characters in it. I can't really handle the whole damsel in distress thing that sometimes comes with some novels, so I'm currently loving the strong female character that is being written in books lately.
One thing that surprised me most about The Falconer was how funny it was. The character interaction comes with a lot of humor and I found myself laughing out loud at times. I think that whenever I read a fantasy novel I often expect it to be very serious but having the funny banter between Aileana and Catherine or Aileana and Gavin was nice to see (or I guess in this case read).
The story overall is different than others I've been reading mainly because of the the steampunk element to the story. While it isn't the main feature of the story line of The Falconer it is more heavily present than I realized it would be, I suppose it serves the purpose of allowing some "modern" things appear in a historical setting. I don't usually love the steampunk theme but it didn't distract me too much from loving the book overall.
There is also a romantic element to the story it sort of builds itself up so it doesn't take over the whole novel but I thought it was nicely done and I'm sure it is more heavily present in the second book. Which I've started already because once the first book ends you'll definitely want to pick up the second.
Rating: 5 out of 5 stars
---
Happy Reading,
Meghan