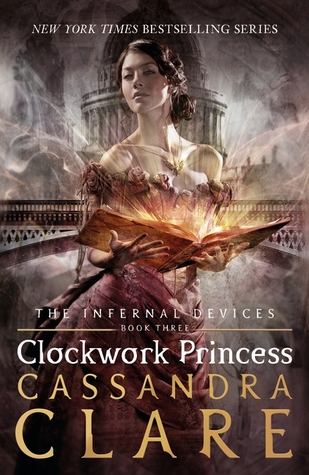 "Men may be stronger, but it is women who endure."
-Cassandra Clare, Clockwork Princess
Title: Clockwork Princess
Series: The Infernal Devices
Author: Cassandra Clare
Publish Date: September 5th, 2013
Genre: Fantasy/YA/Historic
Reading Format: Audiobook
Summary:  A net of shadows begins to tighten around the Shadowhunters of the London Institute. Mortmain plans to use his Infernal Devices, an army of pitiless automatons, to destroy the Shadowhunters. He needs only one last item to complete his plan: he needs Tessa Gray.
Charlotte Branwell, head of the London Institute, is desperate to find Mortmain before he strikes. But when Mortmain abducts Tessa, the boys who lay equal claim to her heart, Jem and Will, will do anything to save her. For though Tessa and Jem are now engaged, Will is as much in love with her as ever.
As those who love Tessa rally to rescue her from Mortmain's clutches, Tessa realizes that the only person who can save her is herself. But can a single girl, even one who can command the power of angels, face down an entire army?
Danger and betrayal, secrets and enchantment, and the tangled threads of love and loss intertwine as the Shadowhunters are pushed to the very brink of destruction in the breathtaking conclusion to the Infernal Devices trilogy.
---
Review:  Let me first say (and this might be a spoiler) this book ended the exact way you would want it too in terms of a love triangle. At least that's what it did for me as I was torn between loving Tessa with Jem and loving Tessa with Will. Cassandra Clare does a nice job of working that out so that the reader might feel some closer with both relationships or potential relationships. Secondly, Clockwork Princess was my favorite book in the series it was filled with action, suspense, romance, and even a little humor; what more could you ask for?
There are however a few moments of frustration while listening to this book for example Will's sister Cecile becomes an added character to the story and I found her to be quite whinny at times. She was my least favorite character in the books and her only redeeming quality was her interaction with Gabreil Lightwood.  And speaking of Lightwood, the Lightwood brothers were a nice addition to the thrid book and Gabreil doesn't turn out to be as annoying as he was in the first two books.
And we finally learn exactly what Tessa is. I will also say I like that she doesn't end up being a damsel in distress type. She learns more about herself through this series and also finds a family among the Shadowhunters at the London institute which I think makes her become a stronger character throughout the books.
Lastly the audiobook for Clockwork Princess was the best one out of the three. The guy who does the narration makes an effort to give each character a voice without it sounding like it belongs to another. And with the character list of this book being so big that can be a hard accomplishment to make but it was done with this audiobook, I just wish he had narrarated all of three books.
Rating:
Five out of Five Stars
---
Happy Reading,
Meghan