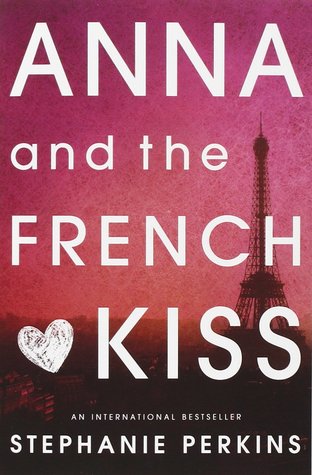 "Boys turns girls into such idiots."
-Stephanie Perkins, Anna and the French Kiss
Title: Anna and the French Kiss
Series: Anna and the French Kiss Series
Author: Stephanie Perkins
Genre: YA Romance
Publish Date: December 2nd, 2010
Reading Format:  Paperback
Review:
I've seen this book floating around on Booktube for a while now and I finally broke down and bought it.  Anna and the French Kiss is about an American girl who is sent to France by her estranged father to spend her senior year at a boarding school in Paris.  There Anna meets Étienne St. Clair, a boy she becomes best friends with and wants to potentially be something more, except one problem he already has a girlfriend. (Of course)
The book is a fast read.  I read it in one weekend and for me that's an accomplishment because I am a slooow reader.  It's a YA contemporary romance that comes with all the drama and angst one would both expect and hope for.  This story was cute and frustrating all at the same time and I was entertained from start to finish.  Typically I don't often read within this genre because I can find teenage lead female characters to be too whinny.  Anna did not come across that way to myself but others may disagree.  Étienne would have been totally crush worthy to my teenage self had I meet him when I was 17 and he makes a great love interest in the book.
Anna and the French Kiss is the first in a series of three novels.  I was hoping to have already read the second book by now, but I accidentally picked up the third book and haven't gotten around to buying the second yet.   I'll get around to it I'm sure but I've got so many other books I've either started to read or am hoping to get too eventually soon, and this series may have to be saved for next year or next summer.  There is something about YA contemporaries that I feel they should be read during the summer, perhaps it's because they make great vacation reads.
Rating: 3.75 out of 5 stars
Happy Reading,
Meghan