Title: A Study in Charlotte
Series: Charlotte Holmes Series
Author: Brittany Cavallaro
Publish Date: January 3rd, 2017
Genre: Mystery/YA/Retelling
Reading Format: Paperback
Summary:
Jamie Watson earns a rugby scholarship to a prep school in Sherringford, Connecticut.   Starting his new school brings Jamie not only geographically closer to his estranged father but also to Charlotte Holmes, the great-great-great-granddaughter to the infamous Sherlock Holmes.  Naturally Jamie, the great-great-great-grandson of John Watson, feels that he and Charlotte are destined to be the best of friends.  Too bad, however, for Jamie that his first meeting with Charlotte doesn't go as planned, nor did he expect to find himself to be framed for murder along with Ms. Holmes.
Review:
I've only ever read one Sherlock Holmes Novel and that was The Hound of the Baskervilles for my 7th grade literature class.  Needless to say I'm far removed from having read that book and outside of movies and TV shows about the famous fictional detective, I don't have a lot of knowledge about Arthur Conan Doyle's original stories.  So when I decided to pick up A Study in Charlotte as an impulse buy at Target (what isn't an impulse buy at Target?) I didn't know what to expect other than the retelling of a classic with Sherlock and Watson's great-great-great-grandchildren.
First let me get this out of the way by saying that the entire time I visualized Charlotte and Jamie mostly like this: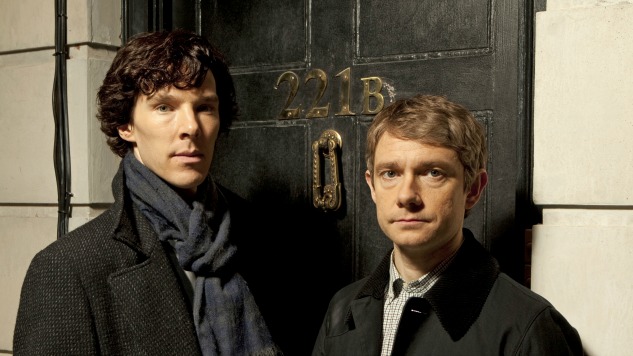 Though granted the main characters in this book were all but 16 (and one happens to also be female), I couldn't quite get around Benedict Cumberbatch and Martin Freeman as Charlotte Holmes and Jamie Watson.
Now that I have planted that idea into your mind as well, I'll continue on with my review.
The first two words that come to mind to describe A Study in Charlotte is dark and funny.  The wittiness between Charlotte and Jamie is quite reflective of anything else Sherlock related, and the common themes that haunt her great-great-great-grandfather also haunt Charlotte.
There is enough in this book that it has a familiarity to it but also provides enough originality that it doesn't appear like a redundant plot line.  Brittany Cavallaro does a good job of incorporating the original stories while maintaining her own take on the novels to produce a murder mystery I actually enjoyed reading.  As someone who doesn't venture into the mystery genre very often because I can sometimes find them predictable, I never lost my interest in what was happening in the book.
If you enjoy Sherlock Holmes I would suggest reading A Study in Charlotte but if you are expecting an exact replica or a continuation of the original novels then you might be disappointed.
Rating: 4.5 out of 5 stars
Happy Reading,
Meghan