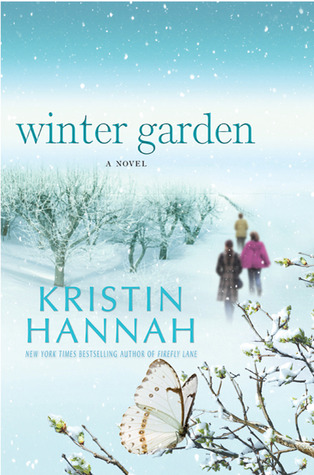 "To those who are here, those who are gone, and those who are lost." — Kristen Hannah, Winter Garden
Title: Winter Garden
Author: Kristin Hannah
Published: February 2, 2010
Genre: Contemporary/Historical/Fiction
Reading Format: Kindle book
Summary:
Meredith and Nina Whitson have always had a very cold relationship with there mother Anya. The girls only warm connection with their mother came in the form of the Russian fairy tales Anya would tell them as children. When their beloved father passes, his last request to Nina is for her to have her mother retell the fairy tales to the girls.  As Anya reluctantly begins to tell the tales again her daughters learn more about her past than they ever have before and what seemed like an impossible relationship between mother and daughters starts to form.
Review:
One of Kristen Hannah's other works is my all time favorite books, The Nightingale. I love Kristen's writing and how she expands upon the different relationships the characters have with one another.  While Winter Garden did not surpass my love for The Nightingale I still found this book to be a good read.
The setting of Winter Garden .  I will say the book has a slow start to the actual fairy tale parts that Anya tells to her daughters. Because this does take awhile I felt that the end of Anya's fairy tale was rushed and too much of the first 100 to 200 pages are devoted to the build up of the stories without actually devoting a lot of time to tell them.  Other than that Winter Garden was a good book. I learned some stuff about Russian history I've never known about and its made me want to look into other historical fiction set in Russia.
Winter Garden is also a very emotional read.  Much like Kristen Hannah's other books, the author really plays with the readers heart strings with Anya's story.  At times the characters themselves can be a bit irritating, at least that's how they made me feel. This was especially true with Meredith's need to control everything while also claiming to do it because she want's to make everyone happy.  In truth when I think about the story line that takes place in "present time" (story takes place in the year 2000 in Washington State and also in Leningrad, Russia during World War II), I could have actually done without it completely and had it focus only on the Leningrad parts. Even with that said I'd still recommend Winter Garden, if you like World War II history but would like a mix of family drama then you should read this book.
Rating: 3.85 stars out of 5
Happy Reading,
Meghan